Milton's (Del Mar)
When you are hankering for a simple wellmade sandwich, like a BLT or a pastrami with Swiss, there aren't too many choices in San Diego. But Milton's comes thru with high quality meats cheeses and breads, especially those of the Jewish Deli persuasion. And did I say pickles? Mr A loves them. They bring out both pickles and bread to the table – today, a small mini loaf of challah, 4″ long, fresh and soft.
The triple decker pastrami and corned beef was "awesome" says Mr A. So huge that we had to bring half of it home. The French fries were very crispy and very soft inside.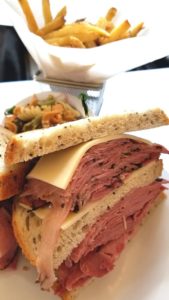 The lox sandwich was obviously prepared by someone that appreciates fish. The lox was handcut, not precut, and trimmed of the strong tasting dark parts. The bagel with poppy seeds was toasted without me having to ask. Capers, ripe tomato, and red onion. Mmmm.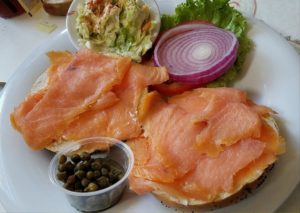 Ms S loved her chicken soup with noodles and carrots.  The BLT got rave reviews from Kid #2.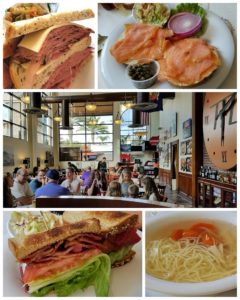 Forget Cocos, Dennys, and sandwich shops that are only open at lunch. Come on down to Milton's. Huge menu and plenty of non-Jewish items like baked chicken, BLT, pizza. But the Russian dressing might make a fan out of you. And a huge case full of cookies and desserts. And I haven't even mentioned the cheesecake brownies!  Service has always been excellent.
Milton's