Liberty Station Market – first peek (San Diego)
We took a first peek at the new Liberty Station Market last weekend. This is located at the North end of the new Liberty Station area which is north of the San Diego Airport.  There are about 12-15 vendors with pretty good representation between entrees and desserts including specialties such as sausage, raw bar, poke, and specialties like Cajun and Thai. The butcher had some interesting cuts of meat for sale, some marinated, but some pieces looked a bit old – I wondered if they are getting enough foot traffic. I can say that everything we tried today was very good and we look forward to trying this place again. We saw several airport travellers as well – this could be a good spot for pre-flight eating.
Pro Tip – park in the big lot on Historic Decator between the market and the water. From Truxton there is very little signage indicating the location of the market.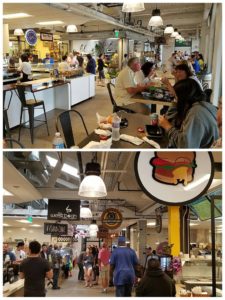 We enjoyed the Basil Chicken and Larb Kai very much. The spice level was strong and the flavors very good.  The Basil Chicken had a bit of fried egg in it – unexpected. We have yet to find Basil Chicken as good as what we had in Cambodia last year – sob. Somehow I missed the picture of the Larb Kai, which had all the right textures and flavors (lemongrass, galangal, lime, shallot, crunchy rice).   We need more Thai options now that Taste of Thai (Del Mar) is not what it used to be.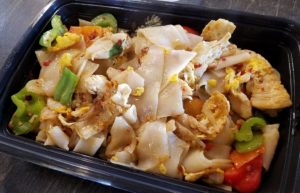 The Gumbo – very spicy and very good. I wish it was less soupy though. The crab claw was meaty and fresh. The toast was a nice touch.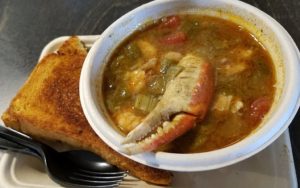 Sausage sandwich with seasoned potato slices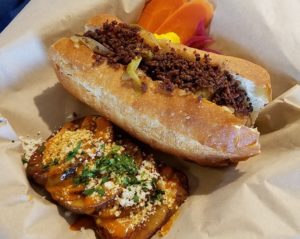 Fresh pasta with bolognese sauce (for Ms S, of course). She went back and ordered a 2nd helping.  The bolognese was complex and meaty. They could have cheaped out with a plain meat sauce but didn't. Kudos!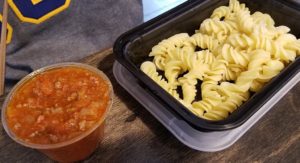 Plain hamburger – with tater tots!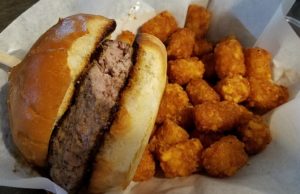 Liberty Public Market
2820 Historic Decatur Rd, San Diego, CA 92106