Original Pancake House (Poway)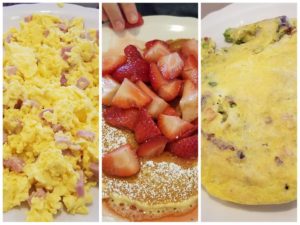 What's better than a girls breakfast out after a sleepover? Nothing! Turkey bacon and avocado omelet, strawberry pancakes, and scrambled eggs with ham.
It was a busy morning at OPH since it was Easter Sunday morning. We got a late start at home due to Mom – the girls had been up for hours – we made it there at 8:40am and had to wait for 20 min. The girls enjoyed playing Stack, a new Android game I'd found. The waitresses were wearing Rabbit Ears. The restaurant was loud as usual but the food was great and the portions big. The ham in my scrambled eggs was real ham, not sandwich meat. The omelet had almost an entire avocado in it. The sourdough toast was chewy and substantial. Another great breakfast at OPH. Just come early.