San Diego County Fair 2016
Today we accompanied Ms S and two school friends to the San Diego County Fair.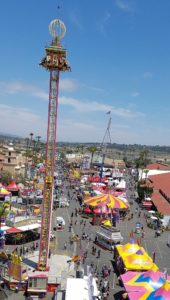 Previously named the Del Mar Fair, this is in my opinion the best fair in California. The LA County Fair is almost too huge, and the Orange County Fair is too small.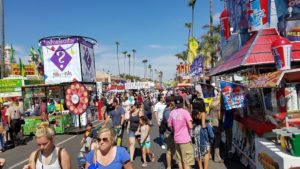 The San Diego Fair has a spectacular setting right on the ocean, nice and breezy, and just the right size for all the animals, rides, great food, and the commercial tents. Check out the view of the ocean from the Sky Flyer!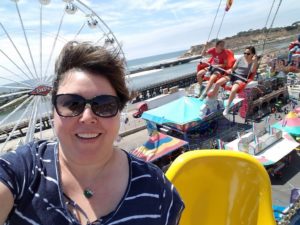 Normally the goal is to stuff ourselves silly at the Fair. Most of the food is actually pretty darn good, but
outrageously
expensive – always bring about twice as much cash as you think you need.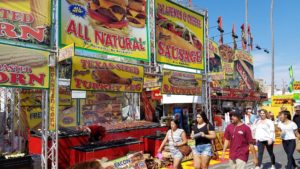 Our favorites, in no particular order:
Country Time cinnamon rolls – watch them make it. Flour, butter, sugar, cinnamon. Such simple ingredients but soo good. ~$5
Chuckwagon BBQ – central location, and their waffle fries are great. We like their pulled pork and BBQ beef plates. $10-12 for a plate.
Juicy Giant Western Sausage – juicy, and meaty, and a lot of sausage. I like a sausage that is not so packed in its casing that it becomes rubbery. Really a quality sandwich and might be worth the money $12.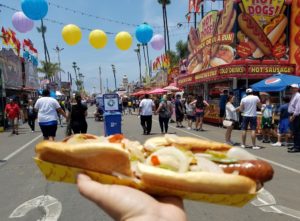 10 pound Bun – apparently extinct 🙁 we have not seen this place in a few years. Cheddar cheese and garlic melted onto huge slices of toasted sourdough bread. Yes, it was as good as it sounds. I'm going to keep talking about it until they bring it back.  🙁
Cream Puffs – whipped cream aficionados will appreciate that there's no preservatives and no "Cool Whip" taste. $5
Caramel Apple Tower – just caramel and apples. But so perfect. $8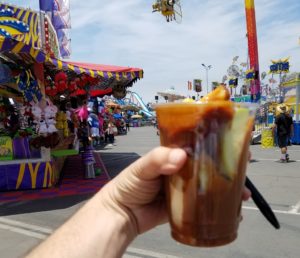 Mini Donuts – I never miss these. Super hot and covered in sugar cinnamon and perfect to cruise the stalls with. The only hot donuts I like (no I was never a Krispy Kreme fan).  12 for $5, they are located in the back of the first commercial booth (next to the garden center).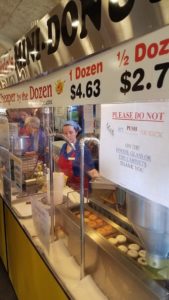 And our new favorite,
Chicken Charlie's Maui Bowl
, pictured below. Tender teriyaki chicken over rice and pineapple. Do not buy this if you don't want to be accosted by dozens of strangers asking where you bought it and whether it's any good. Yes, it's delicious, and it's "only" $13.