Spicy Cucumbers
Here's a great recipe for Spicy Chinese Cucumbers that I found online. Thanks, kirbiecravings.com!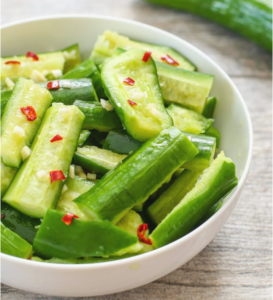 SMASHED CUCUMBER SALAD
A Chinese-style cold marinated cucumber salad that is flavorful, simple and very addictive.
YIELD: 2-4
PREP TIME: 5 minutes
TOTAL TIME: 5 minutes
INGREDIENTS:
5 Persian cucumbers (it's best to use Persian because they are crisper)
1/2-1 tsp salt
2 cloves garlic, minced
1 tsp sesame oil
1/2 tsp granulated sugar
1 tsp red pepper flakes
DIRECTIONS:
1. Slice ends off cucumbers and then smash them until they break like video above. Cut the cucumbers into thirds. Then slice into bite sized pieces approximately 1/2 inch wide and 1 inch long.
2. Add in all the remaining ingredients and mix until cucumbers are evenly coated in seasonings. Taste and adjust as needed. You can eat right away or let the cucumbers sit in the fridge to further develop the flavors.