Shangri-La Day Foot Spa (San Gabriel)
This weekend the ladies wanted to repeat their very successful foot massage experience of last year. But this time we thought we would try something new. There are many foot massage places in San Gabriel but we spied one in the Black Ball mall that had some nice upholstered cushions and look like it might offer more than just foot massage so we opted for this one. We didn't read the Yelp reviews until after we left which went a long way to explain the experience that we had.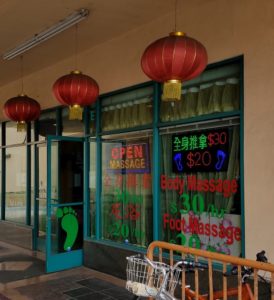 When we first got there, we all gravitated towards the whole body massage, 30 minutes for $20, except for M who wanted the foot massage. All of the masseuses were busy (skinny older Chinese men with good arm muscles) so they had to call for backups. Pretty soon four more girls magically appeared in the shop. And started to work on us. So we lay down on the nice comfortable cushions and the workers went to work.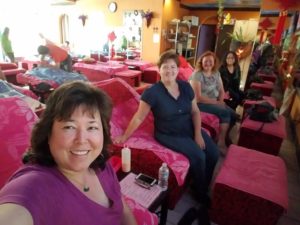 This being a casual massage place, you did not need to take off any of your clothes. You just lay down on the cushion, slipped off your shoes, and they put a light beach towel over you while they worked on you. So as long as you wore a T-shirt and yoga pants, you would be fine.  Chinese massage is quite vigorous and there were several times where we thought maybe we should ask them to back off a little. But the environment was very peaceful, the lights were low, the music was soothing, and when we turned over on our backs we could watch the funny Chinese cooking show. Then when 30 minutes was up, they whispered do you want us to keep going? and M said yes because it was pretty awesome. The body massage turned into a Foot & Leg massage. So about 50 minutes later we were all total mush from the excellent massage. We went to pay the girls and tipped them about $5 on the $20 bill but M's masseuse seem to be confused about giving her change on the $40 that she gave him. We figured out later that he was really trying to get her to tip $10 on the $20 service but due to his poor English we thought he didn't understand how she was asking him to make change, so after insisting multiple times on getting $15 back, he reluctantly gave that to her. Come to find out on Yelp that this place is known for basically extorting customers for $10 tips. Now in this case, it was almost justified for the extra long massage we got.  But in America, you don't insist on a tip!  Luckily we were able to escape this – just barely.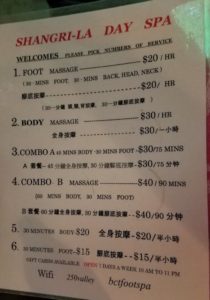 And strangely enough, we liked it well enough that we went back the next day, this time with K. This time when they called for reinforcements, the same lady as before showed up and was surprised to see us. But today they didn't pull any anything fast on us. They gave us the 30-minute massage, we paid our $20 plus $5 tip, just like yesterday, and we were very satisfied. I guess they figured they couldn't try to extort us today for what they could not get out of us yesterday!
Tipping nonsense aside, we did like this place and would go back next time. I mean, come on, when was the last time you got a 60 minute massage for twenty bucks! Just be prepared to be very firm about what you are willing to tip. I have found that most Chinese are very insistent about trying to get the best deal for themselves. You simply have to respond in kind in order to get your way, and not be insulted.
Pro Tips:
Wear comfortable clothing – tshirt, exercise pants, slippers
Shave your legs, ladies
Might not get your choice of male or female masseuse
Be prepared with exact change for tip
Be prepared for typical brusque service ("Sit here. Wait 10 minutes")
Don't be afraid to tell them to ease up on the pressure, if it hurts
Don't be surprised when they carry on a conversation in Chinese the entire time, and answer their phones. It's still an outstanding massage!
Shangri-La Day Spa
324 W Valley Blvd, San Gabriel, CA 91776
http://www.yelp.com/biz/shangri-la-day-spa-san-gabriel