Mama's Hummus (Thousand Oaks)
Recommended by Uncle Alan, this Lebanese restaurant is amazing!! Authentic and full of flavor. I don't think we can keep going to Daphnes's when we have this place, and Kabob shop, around. Even the spiced onion is good (and I hate raw onion).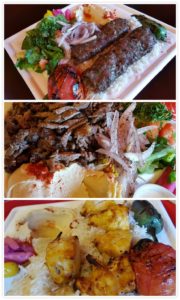 Tried the beef Kabob, sliced beef, and chicken Kabob. All delicious. The hummus in particular was very tasty. We also tried the feta empanada-like pastries. Also very good with parsley and garlic.
Mama's Hummus
5021 Verdugo Way, Camarillo, CA 93012