Paella – first try!
After trying Paella in Spain we knew we wanted to try making it at home. Today we passed by Pata Negra, the only Spanish food store in San Diego, so we took that opportunity to pick up some paella rice and paella seasoning. Usually I am not a big fan of jarred mixed seasonings as they are usually tepid and flavorless but this one from Chiquilin, imported from Spain, is a winner. In other countries they don't fool around. We already had leftover chicken and some spicy sausage in the fridge and we threw in some peas as well. This was a perfect Americanized paella for my timid family – no mussels clams snails shrimp scallops or anything challenging. Don't get me wrong I don't want any of that stuff either! Just not a shellfish lover.
After reading a bunch of recipes on the internet it was easy to see how it was done. First the onions and garlic are sauteed, then the meat is cooked or fried to bring it up to temperature. Then in an empty pan, the spices are fried in some olive oil, the rice is added and fried a bit until glossy, just like for risotto. Then the meat is placed on top, chicken stock is added, and 20 minutes later, voila. Even Samantha liked it!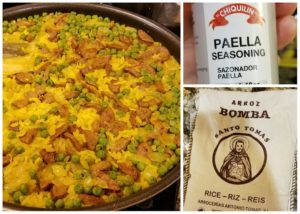 Rice – The key is the Spanish "Bomba" short grain rice that absorbs almost 3x it's weight in liquid. This ensures flavorful rice. This bag of rice wasn't as dry, so 6c stock for 2 c rice would have been too much. 4 or 5c would have been ok.  Don't stir the meat into the rice, the rice needs to be at the bottom to soak up the stock.
Sausage – we used Aidell's spicy chicken sausage. I think any flavor would have worked fine
Saffron – I also added a pinch of saffron as i guessed the jar didn't have much of that for $7.99.
Olive Oil – used plenty.  3-4 T to fry the onion; 5-6T to fry the spices.
We are definitely making this again!!
PAELLA
3/4 large yellow onion, chopped fine
4 cloves garlic, chopped fine
Black pepper
Olive oil
2 c San Tomas Bomba rice
5 c chicken stock plus extra
2.5 tsp Chiquilin Paella seasoning
1 pinch saffron, bloomed in hot water
2 Bay leaves
1/2 c peas
1-2c cooked chicken, bite sized pieces
2 Aidells sausage, small chunks
Salt to taste
Saute the garlic and onion in olive oil with the pepper set aside. heat the chicken and sausage until browned on the edges set aside. in 5 to 6 tablespoons of olive oil fry the paella seasoning until fragrant. Add the rice and add more oil to ensure the grains of rice are coated. Fry a few minutes. Add the bay leaves and the peas. Add the saffron water to the stock and add the five cups stock to the pan. Add the meat on top of the rice and spread evenly. Cover the pan and cook for about 20 minutes without stirring. Add more stock if necessary. If too soupy at the end, turn the heat up for a few minutes. Grains of rice should be dryish and separate but tender. Check seasoning.