Siam Secret (Earls Court, London)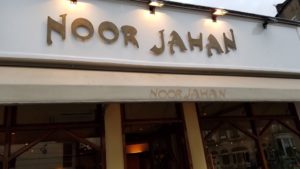 I'd heard about the amazing ethnic food in London and we got to enjoy two such places on this trip.
Noor Jahan serves delicious Indian in a tiny but formal restaurant in Kensington. DH had the Achari Chicken – very flavorful, with a vinegar tang. My house special Chicken Tikka Masala was great. At least one of the pickles served with the pappadum were unusual to us – a red spicy ground coconut one. DD enjoyed her plain Chicken Tikka.
Siam Secret is just opposite Earls Court station in a tiny alley. The Penang curry was some of the best I'd ever had. The Larb Kai was right on (but the rice powder was not ground fine enough). The Basil Chicken was very good but why did it taste like the Mint Leaf chicken from back home? Mysteries of the universe.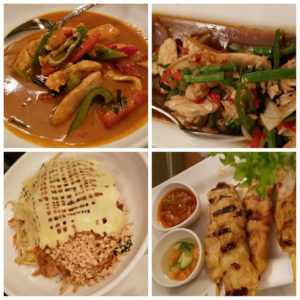 Both restaurants highly recommended.
Noor Jahan
2 Bina Gardens, Kensington