Pokirrito (Kearney Mesa)
Come early to this Poke bowl stop or wait in a huge line!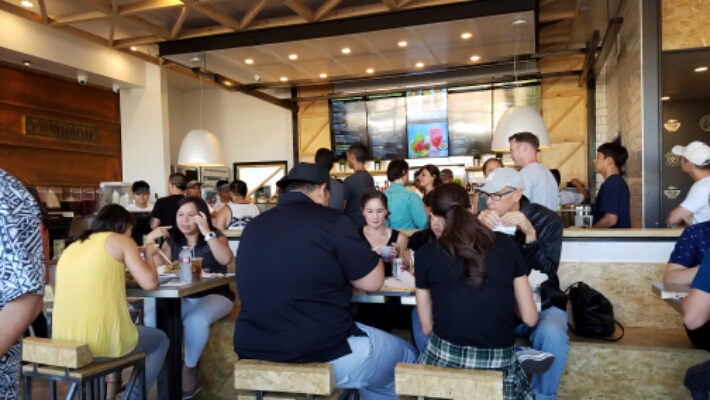 You can only remove ingredients from a Pokirrito, but you cannot add any.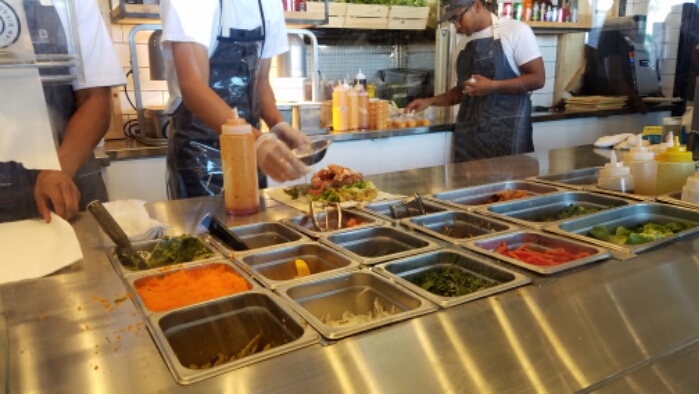 Maui Sunrise burrito with Crispy karaage chicken, lettuce, red pepper, and crispy fried onion. The wrapper is a 8″ square of nori which collapses fast, so don't be too quick to get rid of the paper wrapper. The tastes are nicely balanced. It tastes like a spicy chicken finger and lettuce burrito with rice. You need to be a sushi lover to appreciate the rice and nori, though.
Mr A felt this had a very interesting combination of flavors, but cutting it in half made it very messy. The paper was too difficult to deal with; Chipotle style foil would have been easier to tear back. He might be interested to try one of the fish burritos next time but he's put off by not being able to customize the burrito.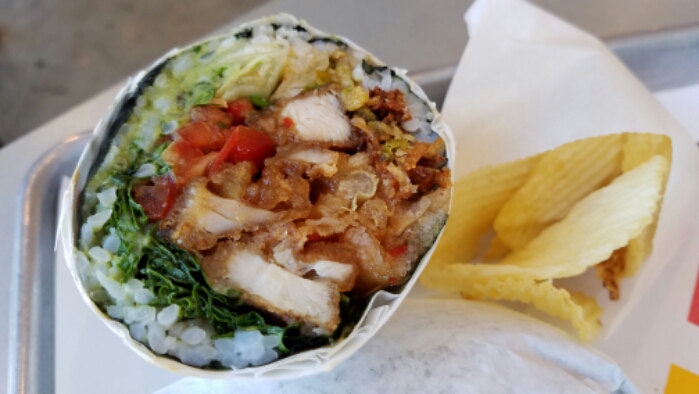 Here's the large Poke bowl with 2 scoops crushed ahi, one scoop tuna, and one scoop albacore. The fish was very fresh and well selected without the white sinews that I see far too often in raw ahi served in California. They mix the cucumber, onion, and fish by hand in a soy sauce marinade. The spicy mayo is VERY spicy, but needed, because the crushed ahi has no seasoning. The fake crab was well mixed (one recent Poke bowl stop in LA included a huge chunk of Krab right out of the package, not even broken up. Yuck.) I really enjoyed this Poke bowl and thought it was the equal of LA and the OC.
Mr A thought it was dull and not spicy, even with the white and green onions and spicy mayo. He would rather try a different Poke place (like Poki One & Half) than come back here.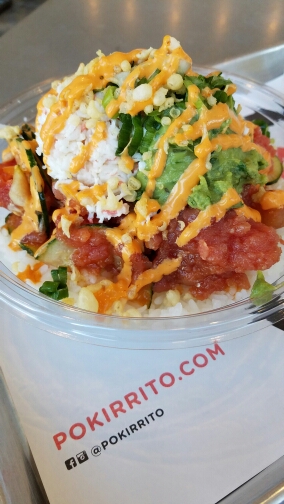 I will definitely come back for this Poke bowl but not necessarily for the burrito. I'm just not a burrito lover – I want to compose each forkful myself rather than have it forced on me by a careless burrito jockey that put all the chicken on one side and all the sour cream on the other. For example the red pepper was all clumped together in the center and not spread out, forcing me to take a big bite of just peppers. Am I a gourmet or control freak? You be the judge.
Pokirrito is bar far the most popular Poke stop (ha ha) in San Diego right now. You owe it to yourself to come in and judge for yourself. And if you change your mind, just remember that Raki Raki, Tasty Noodle House, Crab Hut, and Red Moon are in the same strip mall!