Spicy City, or, "You'd be crazy to not want to come here!" says Ms S
Wow, are we behind in blogging! This summer is flying by and we are four weeks away from 8th grade. We are making the most of summer in the meanwhile.
I am glad to announce that I have finally been able to bring my family back to Spicy City after many years away. Both Mr A and I are huge fans of spicy food but this doesn't work so well for the girls. However, on second glance and in desperation, Spicy City's menu has quite a bit to choose from, even for non-spicy eaters. We had such a great time, we went back for a second round a week later! By popular demand from the girls!
The Hot and Sour soup was very spicy and very sour and very delicious. Best I've ever had. Probably as good as that famous restaurant at the base of the Mutianyu Great Wall (long story). I refuse to order this soup from a non-Szechuan restaurant anymore!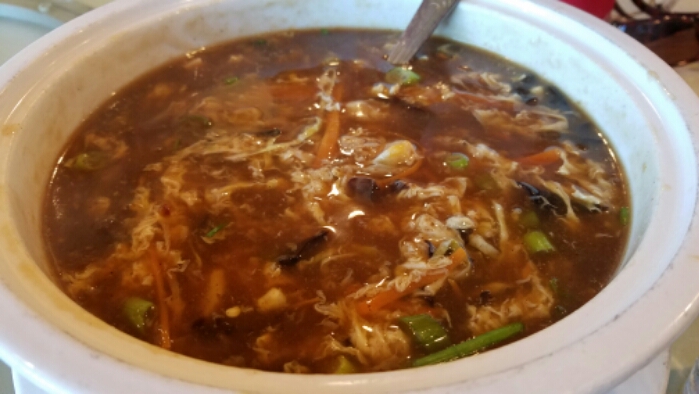 Ms S ordered the Wonton soup in chicken broth which was full of 14 big porky wontons. Sorry, no picture. It was this soup, and the pan fried buns, that brought the girls back a second time.
Slivered pork in a tangy brown sauce with green onion. Again a very spicy dish with a lot of Szechuan pepper in it. Mixed reviews on this one but I really liked it.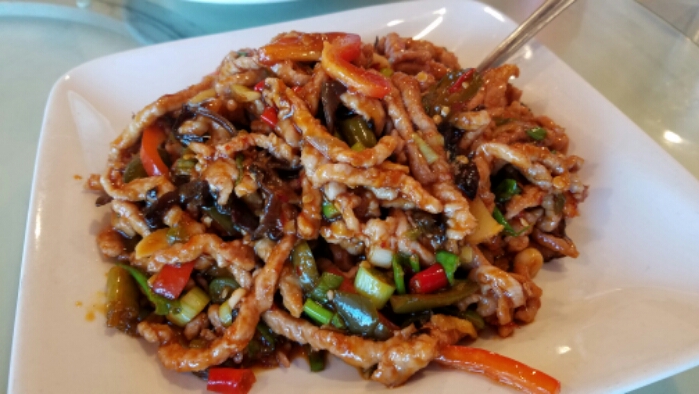 Kung Pao chicken. This was quite disappointing; it did not taste at all like KPC. More like orange chicken with peanuts. And it wasn't really spicy. There is no excuse for bad Kung Pao chicken at a Szechuan restaurant in America.
Pan fried buns, these are the famous Shanghai buns we tried last fall. Ms M and her dad really love these and order one tray of 6 each. Doughy but well cooked. Very stomach filling. The sesame seeds really add to the flavor. And easy to reheat in the microwave too.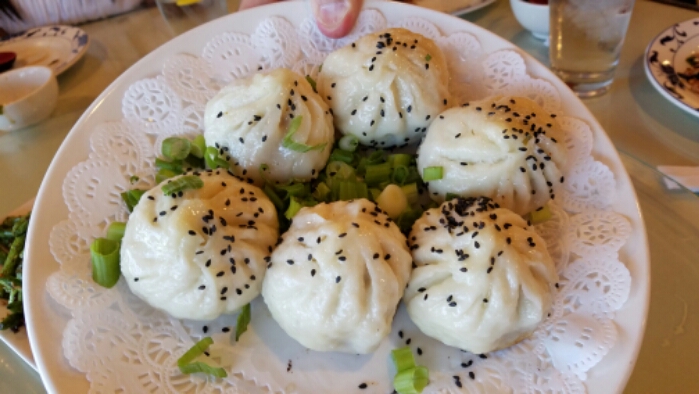 Dry fried String Beans, spicy and garlicky. You can make these at home but they are so much better here. Tender beans with charred edges.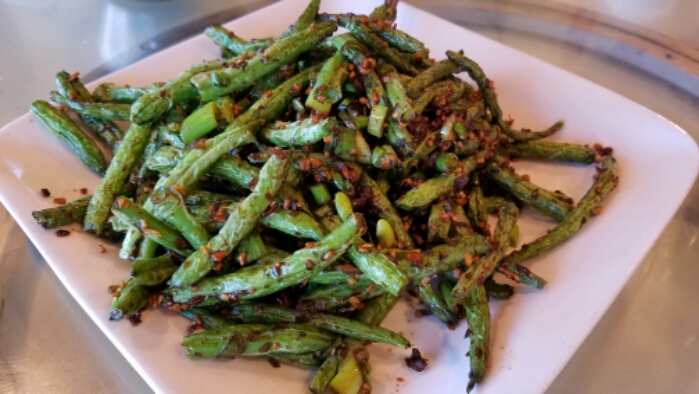 Honey Shrimp with Walnut. Well executed, fresh shrimp and really fresh walnuts!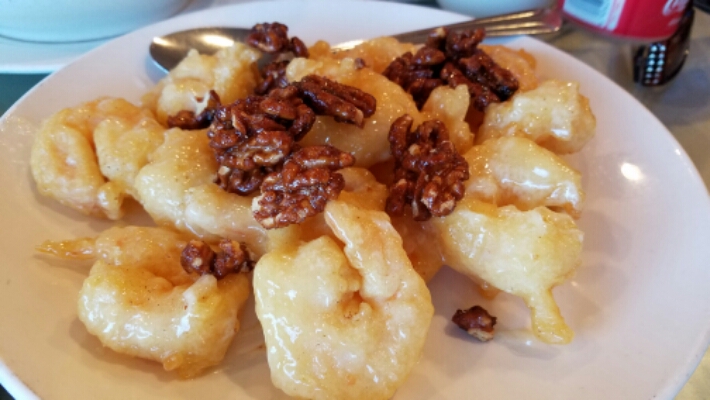 Chicken cubes with peppers. This dish deserves a better name. The chicken tastes like salt and pepper chicken, but dry fried with all those chili's, takes on the aroma and flavor of the peppers. Actually not as spicy as it looks but extremely flavorful. Lots of green onion, garlic, and ginger. Our non-spicy eaters liked this one too. You must order this dish on your first visit.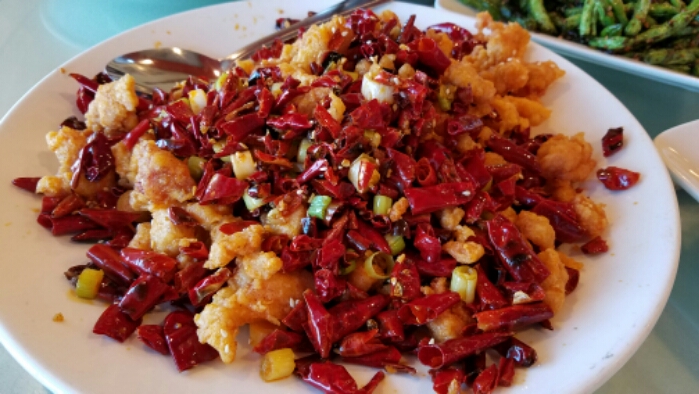 The groaning board…
On our next visit, we tried some different dishes.
These are some cold dishes from the carts in the back. Cold marinated cucumbers, pickled green beans, and tofu shreds that look like noodles. Quite tasty. Don't hesitate to try these.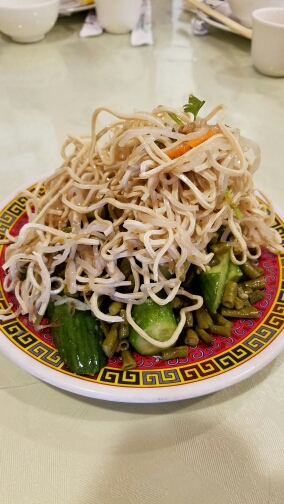 Snow Bean greens. This dish was $16.00. I have never paid so much for veggies. But these were tender, not mushy, and not bitter. Mr A said it was the best veggies he'd ever had.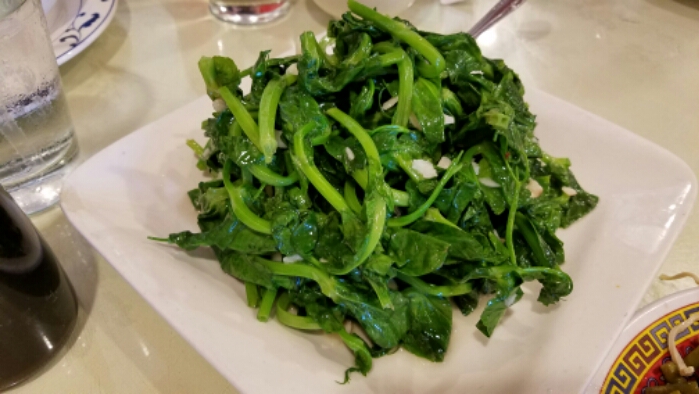 Green onion Pancake. We've had better.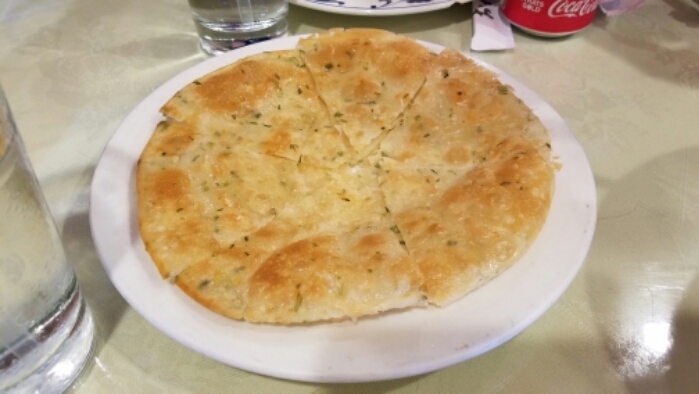 Assorted Fried Noodles (chow mein?) with shrimp, chicken, beef, pork. Tons of rich flavor in the noodles with a slight fish or shrimp overtone. Bean sprout and green onion. Not your standard chow mein.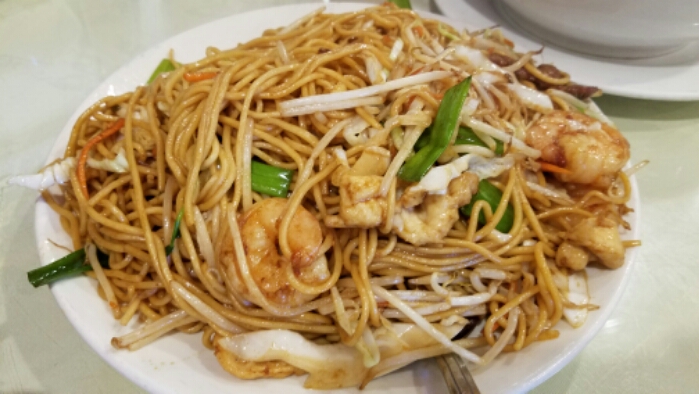 Ma Po Tofu. One of my favorites, this particular dish tonight was absolutely over the top inundated with Szechuan peppers. Our lips, tongue, and roof of our mouths immediately went numb and tingling (is that possible) for 15 minutes. But so flavorful. Get this dish if you don't really get the whole Szechuan pepper thing. Prepare to be converted.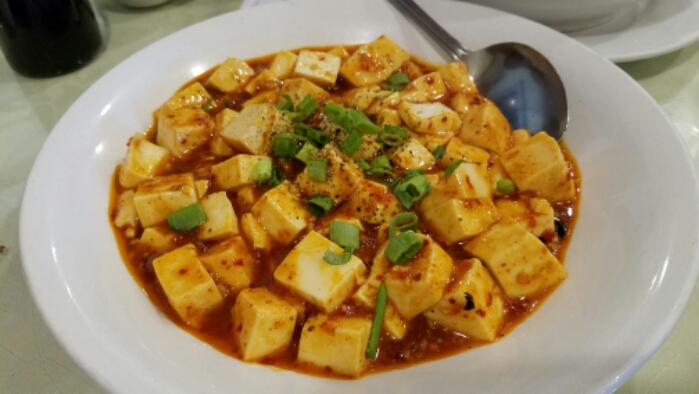 Sizzling beef. Full of cracked black pepper, red bell pepper, green onion. Spatters oil a bit. Table favorite. Reheats very well.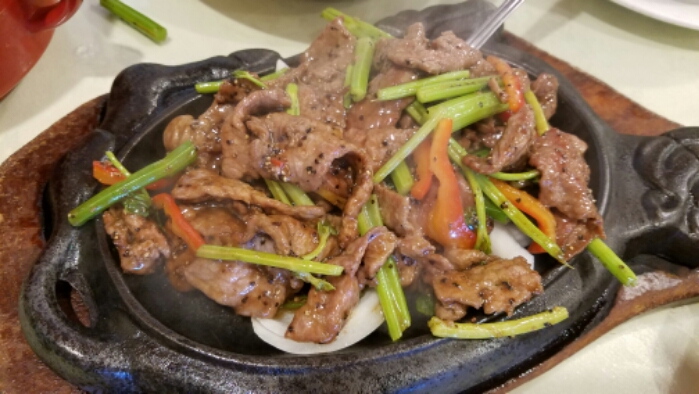 Another picture of the spicy chicken cubes because I love them so much.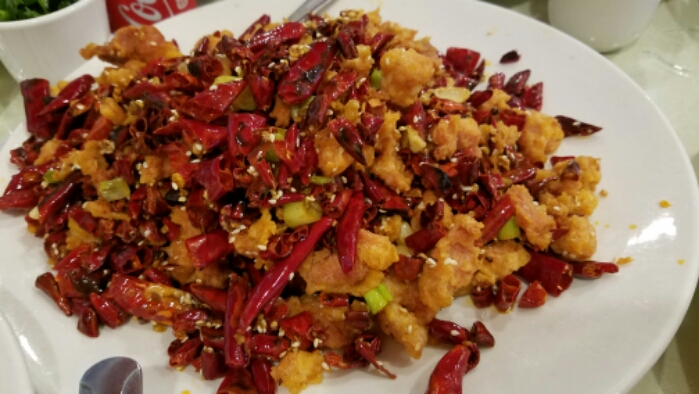 As you can tell we loved just about everything we tried. As with all Kearney Mesa area restaurants, prepare to feel like you are in the heart of China when eating here. Be patient with the waitresses, tolerant of the bathroom conditions, and double check your bill (because they won't double check it for you).
Service note: typically brusque and to the point, some of the staff is a bit more welcoming than normal for a Chinese restaurant. Our first waitress actually collected us off the sidewalk when we dawdled too much on the way in. She was not leaving our visit to chance!
Spicy City
4690 Convoy St #107, San Diego, CA 92111
https://goo.gl/maps/UsCrrj6v2hT2