La Michoacana 100% Natural (Hemet)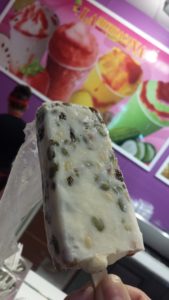 I think this is the Saucillo? Bar with pistachios, almonds, peanuts, and raisins. It's incredible. Chewy and chock full of nuts, it eats like a meal (as Guy Fieri says). Dip it in chocolate and roll it in peanuts or pecans – as Alan P did – and you're gilding the lily.
This little place was jammed with people at 9pm. They had dozens of fruit bar flavors (including peyota dragonfruit), most of which were available for scooping. Interesting layered drinks as well.
And, the Pina Loca, a hollowed out pineapple filled with ice cream goodness. And a Cucumber "Loca", peeled and hollowed out and filled with spicy preserved tamarind, coconut shreds, and ice cream. This is the ultimate expression of fruit and ice cream! Please go out of your way to visit this place if you are a fruit or ice cream lover.
La Michoacana 100% Natural
https://goo.gl/maps/YV41ZLX3Wwv