Money for Nothing and Points for Free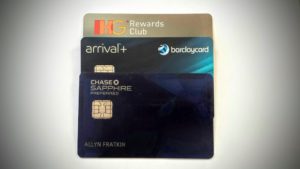 I never really planned to do much with the points and miles I collected for flying on various airlines and staying in various hotels. I didn't have very much brand loyalty so I never thought I would have enough points in any given program to actually redeem for anything of any value.
Teri traveled to Asia several times in the '90s for work and amassed a fair number of United frequent flyer miles. We did use those to fly to Florida twice, but when those were gone it seemed like that was the end.
Years ago I had applied for a couple of credit cards based on the sign-up bonus alone. First came a Royal Caribbean Visa card that gave a $250 credit on a cruise.  I used that card for several years.  Sadly we haven't taken a cruise on Royal Caribbean since I got the card and most of the points I accumulated have expired.  I also got a Disney Visa card that had a sign-up bonus of $100.  I really thought that was amazing.
I got back into sign-up bonuses almost by accident. In 2014 we had a trip to Europe planned and so I knew I needed a credit card that didn't have a foreign transaction fee. Most credit cards charge a fee of up to 3% for any foreign transaction and why pay that if you don't have to?  I applied for an IHG Hotels MasterCard which didn't charge foreign transaction fees and came with points which I knew I would use in the future.  IHG (InterContinental Hotel Group) includes Holiday Inn, Holiday Inn Express, Crowne Plaza, Staybridge Suites, and InterContinental hotels.
It turned out to be fortuitous that I got that card when I did because shortly thereafter we planned a last-minute trip to Hong Kong. Everything in Hong Kong was expensive so I was glad to have a card without a foreign transaction fee. Later I was reading that in Europe you really need a card with a chip. Back then it was hard to find credit cards in the United States that had chips. My IHG card didn't have one.  I read about a card with a chip called the Chase Sapphire Preferred. I read that in Europe you really wanted a "chip and pin" card (has a chip and uses a pin to complete the transaction) but most cards in the United States (including the Chase Sapphire Preferred) are just chip and signature (card has a chip but you still sign the receipt as is customary in the US). Chip and signature was better than nothing so I went ahead and applied.  Literally a couple of days later I read about a card called the Barclaycard Arrival+ that had just announced chip and pin compatibility. So I got that one too.
Eventually I realized that all three of these credit cards had given me sign-up bonuses valued at over $400 each!  Over $1200 total.  I finally saw how lucrative sign-up bonuses could be.  All I had to do was meet a minimum spending requirement (usually $1000-3000 in three months, with spending I would be doing anyway).  Score!
Coming up: different types of rewards.