Kula Sushi and Boba Bar (Kearney Mesa)
Kula has been the most popular sushi place in San Diego for a while, so you can't go there without a plan. We arrived at 515 to find only a 20 minute wait, which had grown to a 36 minute wait by the time we #157 were next. It made the waiting easier to be able to watch the Serving Next counter go up.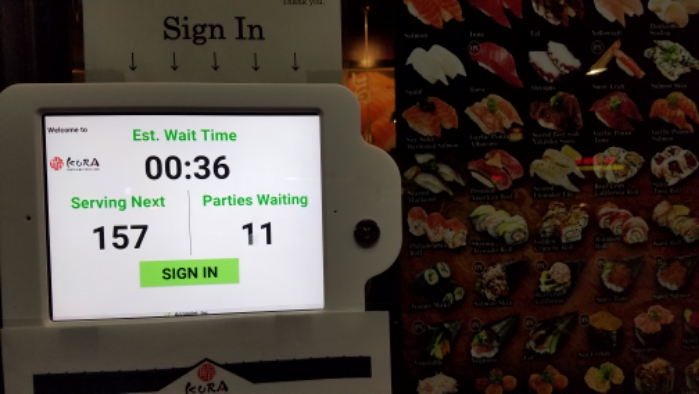 And by the time we left the wait was over an hour!
Each plate at Kula is 2.50 and there was a wide variety of sushi on the conveyor, well marked with a name card preceding every dish.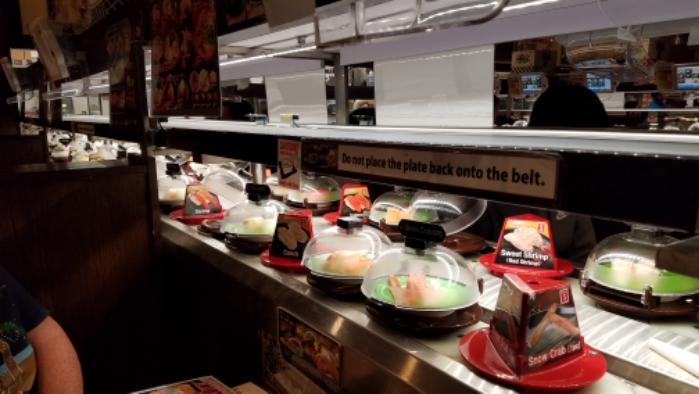 Pretty soon our table was full of plates. We ordered a few things off the menu but some things like the snow crab roll didn't really seem that much fresher. The cool part about ordering from the menu instead of selecting from the conveyor is that your order is transported to you on the 2nd upper conveyor. And announces itself in polite Japanese.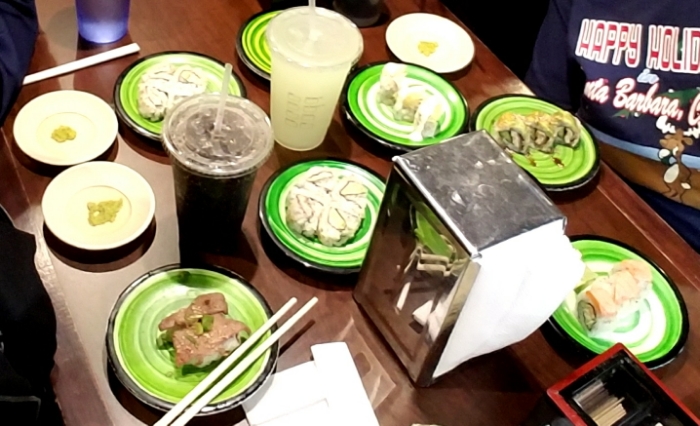 I thought the sushi quality was decent but not gourmet, not even as good as SushiYa. But great variety – you can get dishes like soft shell crab, udon, gyoza, chicken karaage, and poke. The variety and fun factor and price make up for it, and the service was very good and very personable.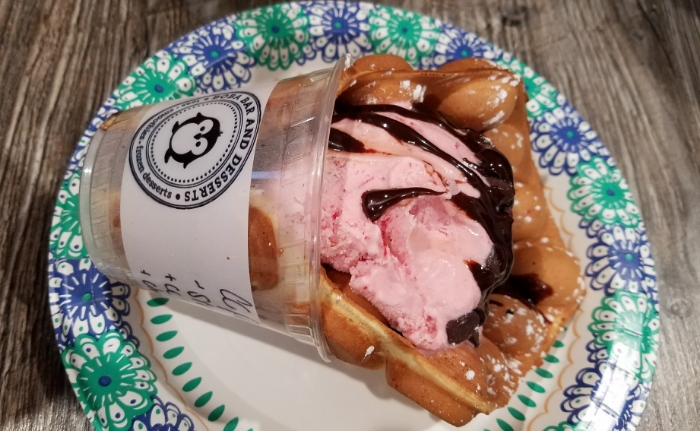 And their final secret weapon? Being in the same mall as Boba Bar. The best milk tea in San Diego is at Tea Station and Boba Bar – never powdered always brewed (try the Jasmine Green milk tea). Not only that, this Boba Bar has Puffles! Puffy sweet waffles filled with ice cream. But for the love of God please split one, they are huuuuge.
OK back to Kula.
Go if:
– you are a value customer for whom Quantity can outweigh quality.
– you can arrive before 530pm
– you need an excuse to go to Boba Bar
– you're willing to accept Dumpling Inn or Jasmine as your backup restaurants if Kula is too busy
I think everyone qualifies for at least one thing on that list!
Don't go if:
– you need to impress your guests (it's a bit of a dive)