Carbone (Aria, Las Vegas)
There are sooo many Italian restaurants on the strip. We narrowed it down to Carnevino, Lavo, Buddy V's (all at the Venetian/Palazzo) or Carbone at Aria. I originally picked Lavo because it has a beautiful street side patio for Mr A who loves outdoor dining. Forbes likes Carnevino, but the $$$$ scared us away. Buddy V's looked good but seemed a little too casual for what we were looking for. Carbone's reviews mentioned outstanding food and great old school service. And it was another chance to visit Aria.
Carbone is on the 2nd floor above the casino. Not many people venture up here I think because the escalators are very dinky and easy to miss. They need a more grand portal that welcomes visitors to come upstairs. The restaurant zone up there was dead. Most of the tables we could see in the restaurants were empty.
But Carbone was packed. The old fashioned menu was huge.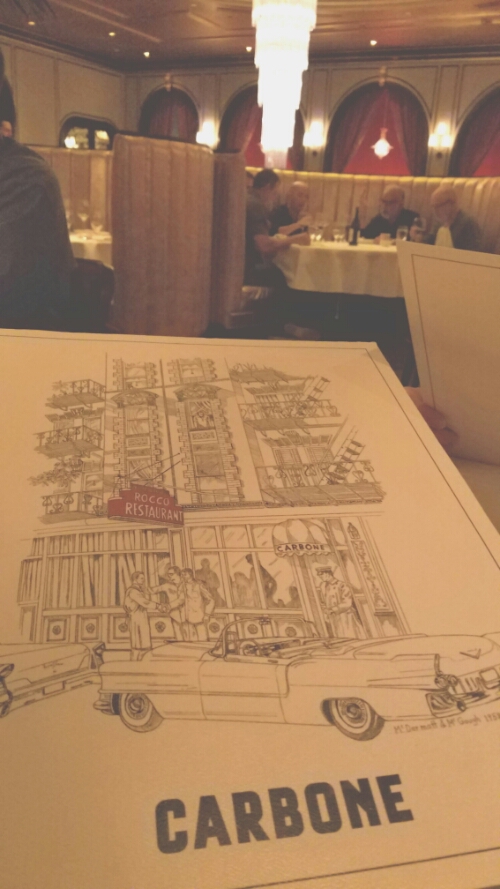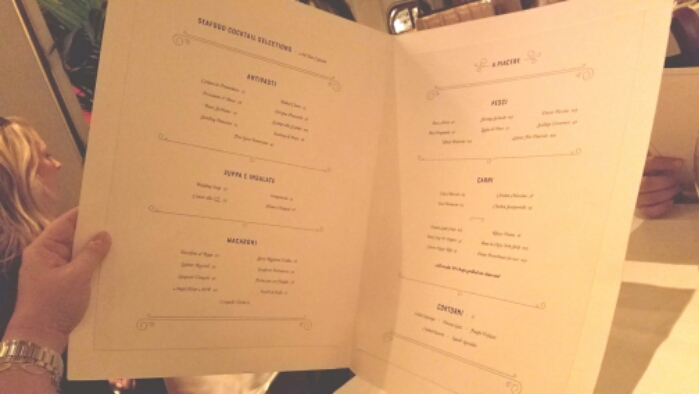 They brought us parmesan cheese and put a large hunk on our bread plates. Room temperature and redolent – I kept catching big whiffs of it.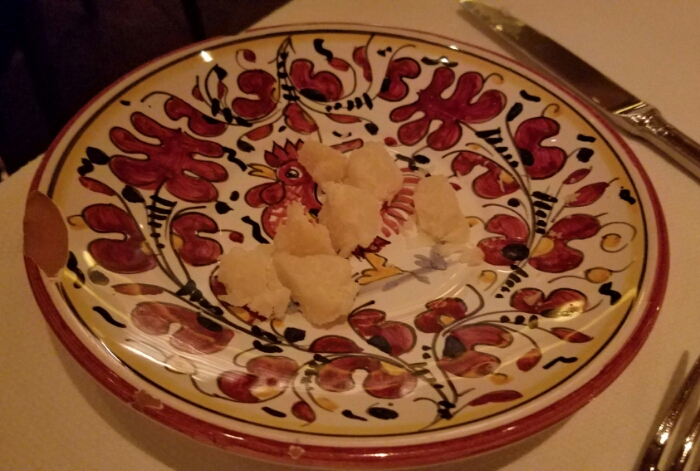 Then they brought the bread service. Focaccia, garlic bread, and sliced bread. Sour pickled cucumber, and salami.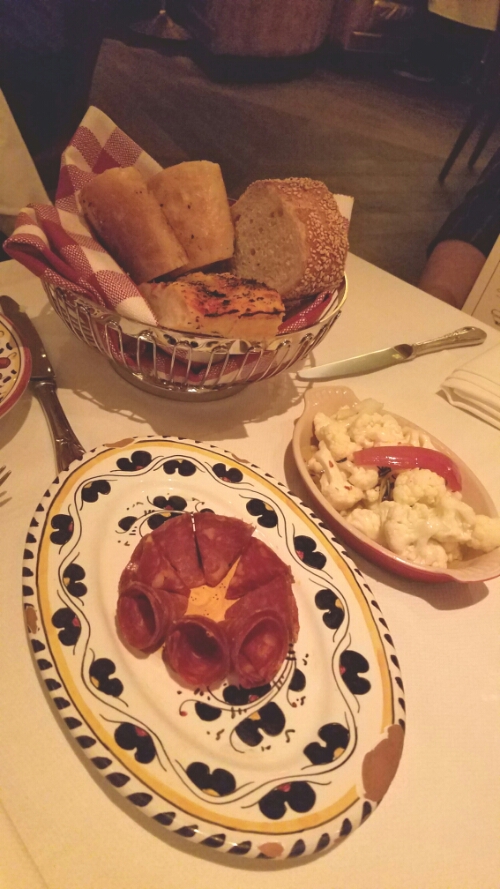 We were going to order the spaghetti puttanesca until we saw the table next to us receive the spicy rigatoni in vodka sauce. (Strangely enough, we'd seen this couple earlier at the Mandarin Bar!) We watched the waiter cut the veal parmesan into 4 pieces and serve them each a quarter piece with the spicy rigatoni on the side. Yes please!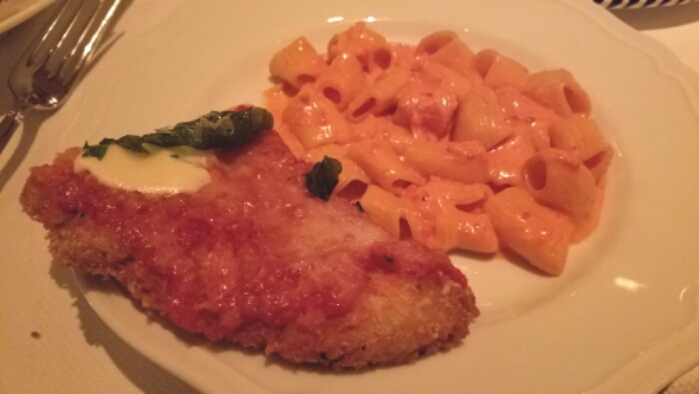 The veal parm was a huge portion by itself. Here is half of it: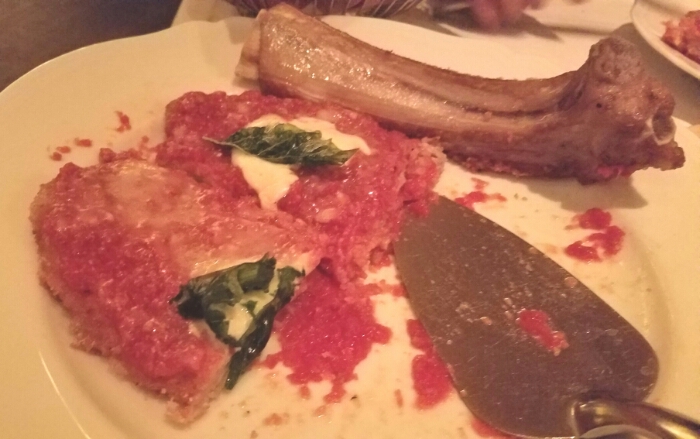 My iced tea came with a lemon infused sugar syrup.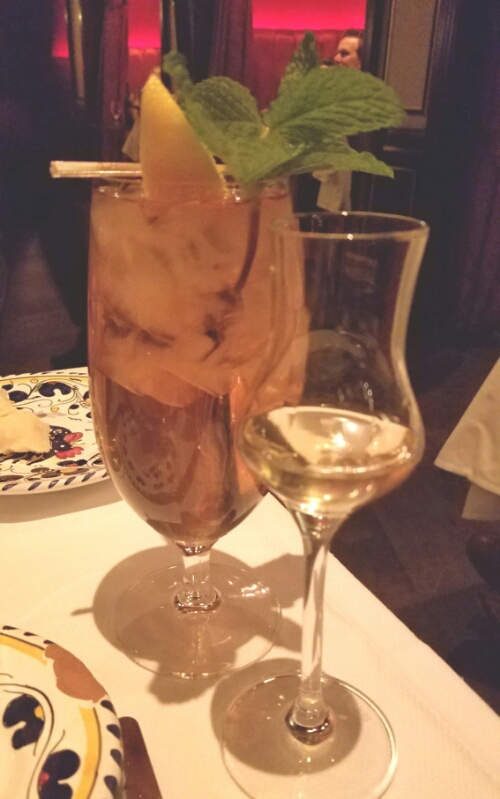 We were so full from our sliders at Mandarin Bar (and other weekend gluttony) that we could barely finish our entrees. We really wanted to try the Caesar salad and the cheesecake but we just couldn't.
But the extras weren't over – at the end they bring a little Marzipan sweet and Limoncello.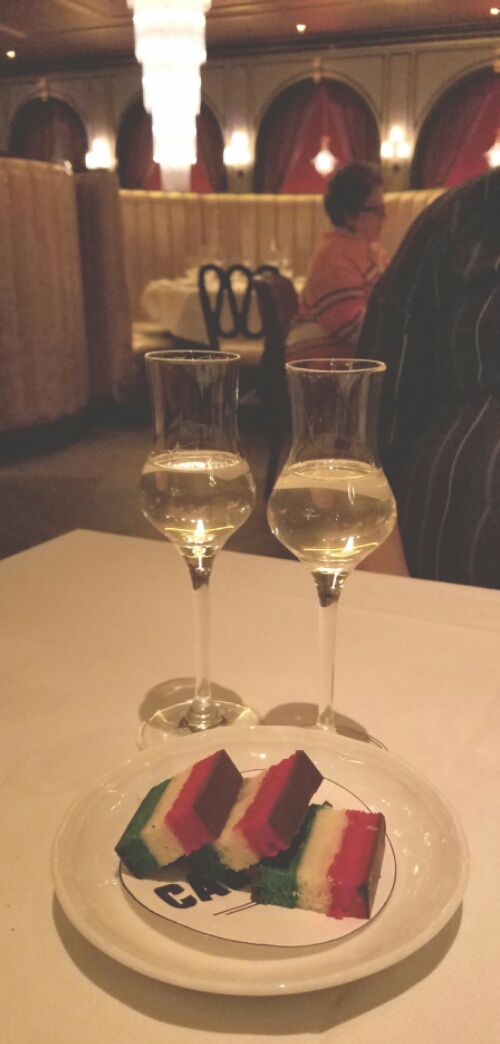 I thought the service was a little lacking. We weren't treated the same as the tables next to us. They didn't cut the veal on the rolling table, but on our little two person table. It just seemed perfunctory. But the food was glorious and I would definitely like to come here again with an emptier stomach.