Diamond Jamboree mall (Irvine, CA)
Diamond Jamboree mall in Irvine is supposedly one of the finest Asian food malls in all of the United States, so tonight we checked it out. Located at Jamboree and Alton, there does appear to be an extremely high number of well known eateries here. However be warned that this mall has the most atrocious parking in the entire universe. You will want to avoid, as one Yelper put it, "the catastrophe that is Diamond Jamboree parking".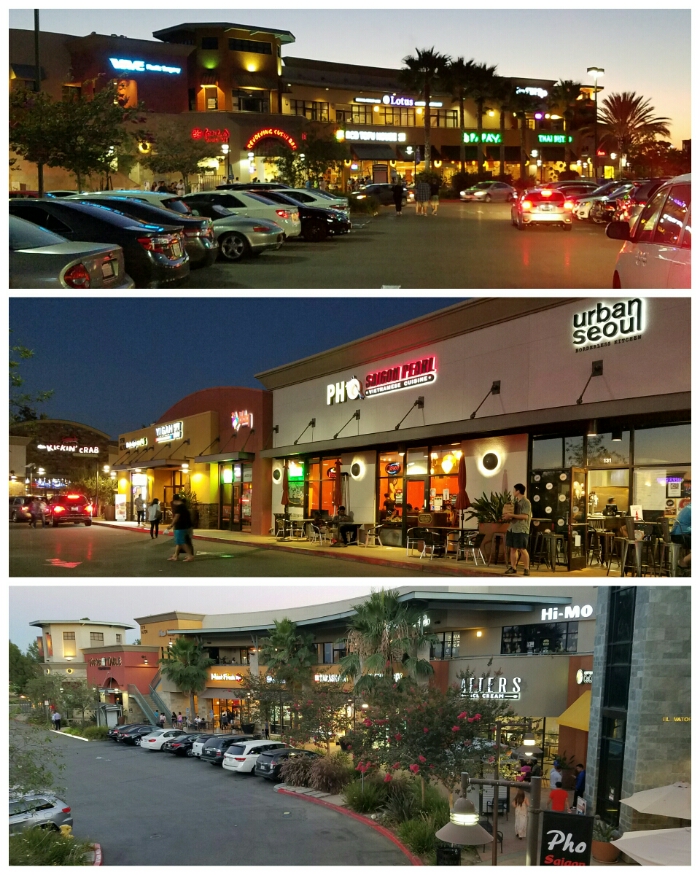 We grabbed some drinks from Lollicup and some snacks from Bon Epi and strolled around, perusing all of the menus. Here's what we found.
Lollicup: Milk Tea with a Japanese bent.  I tried the Anteater (with 75pct sugar) which is half Milk Tea and half Thai tea. Yum.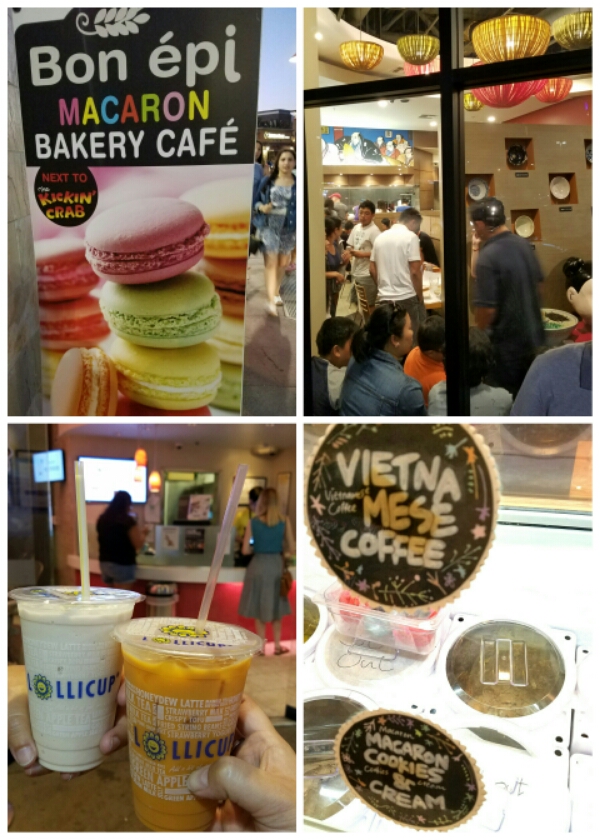 Bon Epi: Macarons, a few baked goods like macaroons and hazelnut pastries, and some very unique ice cream flavors: Thai tea, Vietnamese Coffee, Madagascar Vanilla, Jasmine green tea, macaron cookies and cream, Earl of Grey Lavender
Capital Seafood: as you know, the Five Star dim sum restaurant in San Gabriel used to be a Capital Seafood. This location was MUCH more upscale and gorgeous. They serve dimsum from opening til noon, then a regular menu after that. Only gets a 3.6 on Yelp but I'd give it a go any day.
Ajisen Ramen: famous Japanese Ramen chain that we tried in San Gabriel and really liked (rich opaque broth)
85deg C: famous Taiwanese bakery/desserts/drinks with many items that are now our favorites. "Since the Asian-centric plaza opened [in 1998], the Irvine outpost of 85°C has become the No. 1 revenue-generating store for the company" says this OC Register article. Interestingly, this location is quite small and newer 85deg C's are much larger.
Chef Hung Taiwanese Beef Noodle: a superficial inspection might see this as "just" a beef Ramen joint, but I expect this place would have a rich beef broth, hand made noodle, and spicy options to make Mr A happy. We had some transcendent beef noodle soup in San Gabriel and judging by the 4 foot tall plastic model of the chef in the entryway of Chef Hung's, they must be proud about something here.  Spicy Beef Shank with Noodle in Soup! Wonton in Spicy Oil! Beef Roll!
Kula revolving sushi bar: Small but packed.  Every plate $2.25
Coco Ichibanya: Japanese curry house allowing up to 24x spicy. I prefer Thai and Indian curries but this place would be worth trying once. SOMETHING on this menu has got to be good. Chinese Dumpling Curry Udon! Chicken Cutlet Naan Pizza!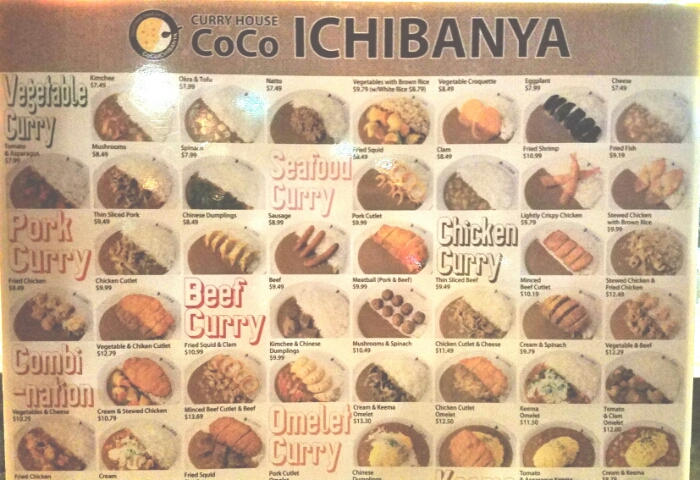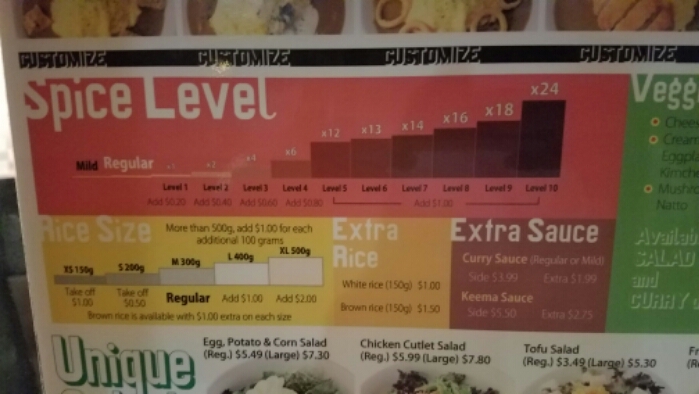 Tokyo Table (Tokyo City Cuisine): some very yummy Robata, sushi, noodle, and sizzling rice bowls on the menu.  Spicy Tuna on Crispy Rice! Seared Beef Sushi!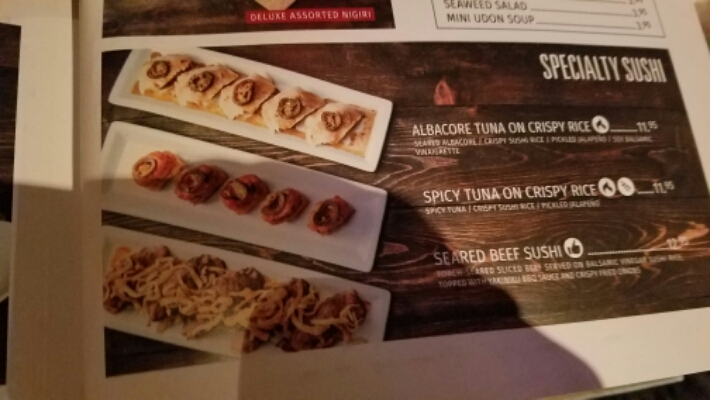 Chicken BBQ USA: not BBQ and not American, the chicken does get great reviews on Yelp.  Green Onion topping Chicken! White Onion Topping Chicken!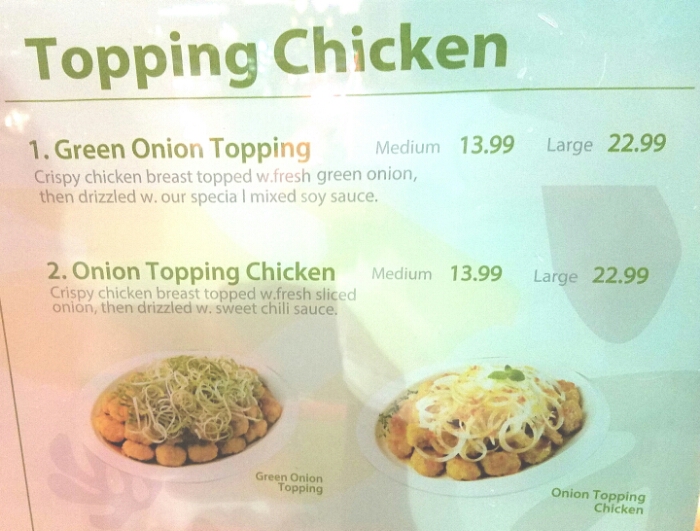 Kicking Crab: apparently Cajun-Asian Crab restaurants are a thing. If you want spicy steamed shrimp, crab, and other seafood, the pictures look pretty good. Yelp reviews are meh, however.
BCD Tofu House: table after table of diners with black stone bowls of Tofu Soup. This is one of the granddaddys of Korean cuisine in SoCal. And apparently they are open 24 hours! Not only that, according to Google, there are indeed diners here at all hours of the day and night.
So in conclusion and at first glance, this does appear to be Asian food heaven. Mr A says this is most amazing Asian eating mall in So Cal. He is looking forward to trying BCD, Urban Seoul, Chef Hung, Tokyo Table. Ms T says, if this is what it means for Asian culture to take over Southern California, then she all for it!  (Disclaimer: she is Japanese and our daughter is Chinese) Her tops picks for future dining are Capital Seafood, Tokyo Table, and Chef Hung.
We left this mall with stars in our eyes and plans forming in our heads for returning with our friends. It would take quite a few visits to eat our way thru this mall!  Although the online reviews are sometimes not so stellar for these restaurants, they are still packed (at 9pm on a Sunday evening) and there is NO parking.  Ms T went to college in Irvine and is shocked that this place has escaped our notice for so long. We plan to make some informed decisions very soon.
Oh and by the way they also offer foot and body massage for very cheap prices!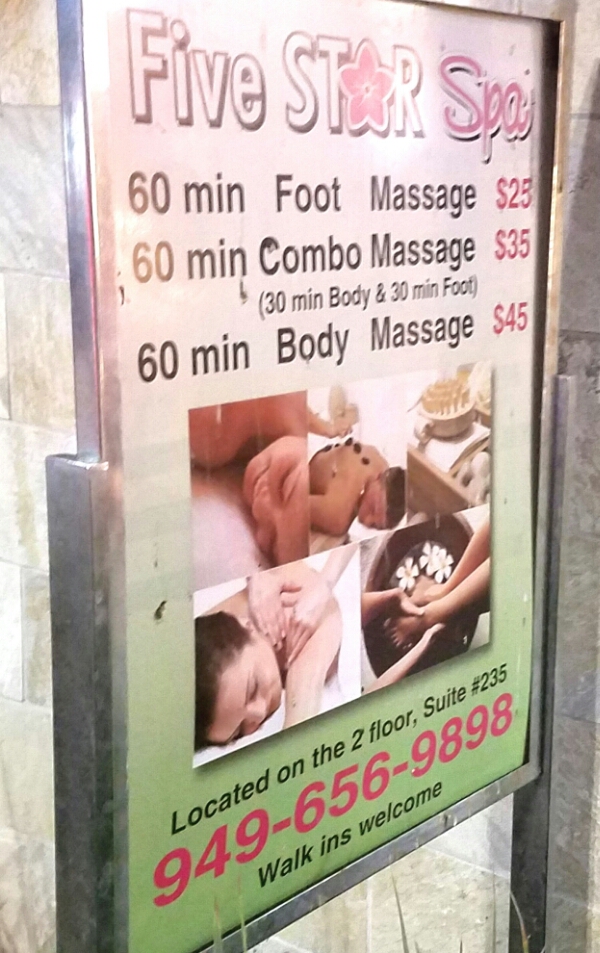 Pro Tip: enter off McGaw then make a hard right into the parking garage. Do not pass Go, do not collect $200, do not try to park in the open lot, don't even go "looking around" for parking. You will thank me later!!!