Koloa Landing (Koloa, Kauai, HI)
We are not scuba experts, so we rely on our scuba friends like Mr A and Ms M and other authorities on the internet like  http://www.tropicalsnorkeling.com/snorkeling-hawaii.html.
Rather than repeat excellent advice given elsewhere, we did find Koloa Landing to be one of the better snorkeling spots on Kauai. The site is uncrowded, the water is deep 30-50′, the fish are plentiful and the girls saw 6 turtles today.
Proof, you say? Here is an unretouched photo from our GoPro: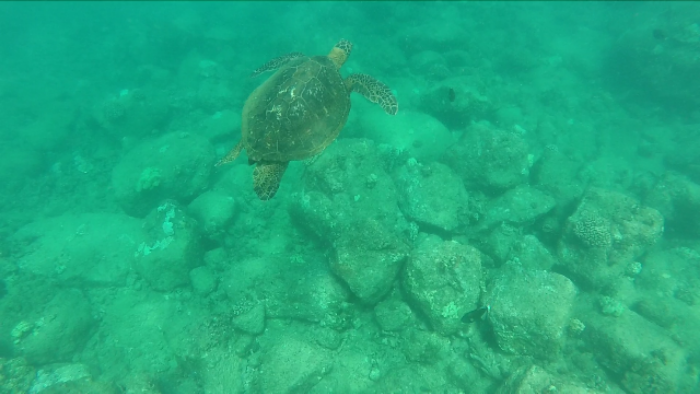 Seeing a wild turtle in the ocean is an amazing experience. They are enormous and stately. They are not fast swimmers so you can get fairly close to them (don't touch them of course). One turtle had 2 babies with her. When I see them in the water, I feel like we are receiving an emissary from King Triton.
We rented some wetsuit tops from Seasport Divers on our way in. An adult and kid in our party opted for those and were very comfortable. I forgot that the neoprene magically prevents the covered body parts from becoming colder. This is important especially if you're used to 3-5′ kiddie snorkeling areas; the deeper water is much colder. The other 2 adults used long sleeve rash guards or doubled up short sleeve rash guards and were fine. Note the dark spot in the picture is a turtle: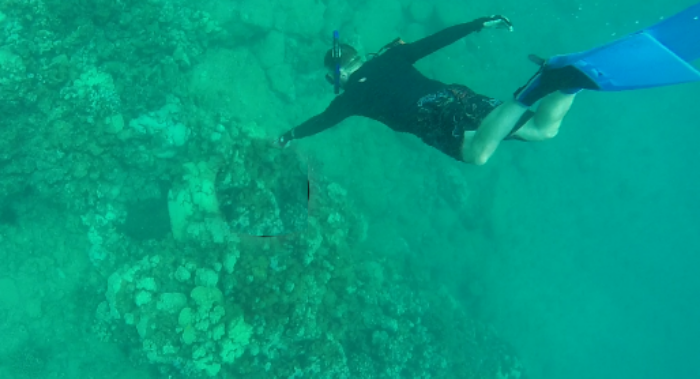 Kauai is probably not the best snorkeling destination in Hawaii. Kauai does have some of the most scenic beaches in Hawaii such as Hanalei, Tunnels or Ke'e, but for snorkeling, Maui (Molokini crater) or the Big Island (Place of Refuge) is a better choice. The reefs on Kauai have not been so healthy over the last 10 years. That said, we have seen Turtles, octopus, and Eels and scores of Humuhumunukunukuapua'a while snorkeling on Kauai.
I will also remind our gentle readers that most of the Kauai beaches are extremely hazardous as they have no reef, and again, we recommend only going to beaches that have a lifeguard. Please educate yourself before snorkeling. Then get out there and have fun.
Koloa Landing Parking Area
2567-, 2747 Poipu Beach Rd, Koloa, HI 96756
http://maps.google.com/?cid=9722614184727569958&hl=en&gl=us