Duke's Barefoot Bar (Kauai, HI)
Another beautiful breezy island evening and therefore another chance to try Duke's, this time, Duke's Barefoot bar. We had never tried the bar before and we were looking forward to the more lively atmosphere downstairs. Much to our delight, they showed us to the table on the elevated area in the back of the bar, right under the waterfall. We had admired this table many many times while going up and down the stairs and now we got to sit here – it was very exciting.
Mr A tried the Mai Tai but it was below average. Definitely not as tasty as the Tropical Itch earlier in the week. The gentleman proclaimed that there were no good Mai Tais on the island except for possibly the Marriott pool bar Mai Tais.
Ms M tried the Chicken Karaage with spicy drizzle. This was boneless chicken in a rice flour dredge, deep fried, crunchy, and spicy. Well done. Ms S had the a la carte chicken breast and white rice. I tried the Caesar salad (limp lettuce and too much dressing) and Mr A enjoyed the Korean steak tacos. Mr A2 tried the fish tacos. We also shared the waffle fries – these were good too.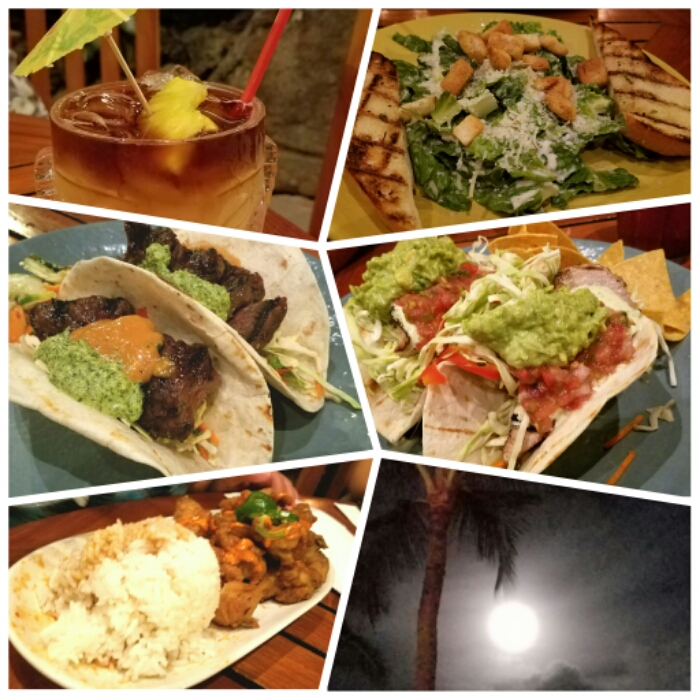 We enjoyed our food but it took quite a while to reach us. Not sure what the holdup in the kitchen was. But we had plenty of past and future island adventures to discuss while we waited.
The evening stroll back to the hotel under the full moon was magical as always.