Tea Station (Mira Mesa)
We fell in love with Tea Station, a Taiwanese Tea House in San Gabriel, for their excellent tasting hot and cold tea drinks. It turns out that Tea Station has many outposts in SoCal including several in San Diego. So of course it was imperative to organize an outing around our new favorite drink, milk tea!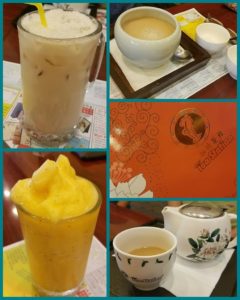 The Mira Mesa shop is small. It's right next to the excellent Siam Nara Thai, and a new PizzaNometry (make your own pizza like PizzaRev and Blaze) that looks good too. The shop uses the same menu, tea cannisters, and wallpaper of the place in San Gabriel which gave me hope that the quality would be consistent. They seemed a bit surprised that we wanted to sit, or maybe they get mostly to go orders.
The iced milk tea was again excellent with the nice strong floral oolong tea flavor, that when cold, almost tastes like it has honey in it. 75pct sweet is perfect for me. So refreshing.
Ms M got a large hot honey tea which came in a big soup bowl type container with a large spoon.
Mr A2 tried the hot longan milk tea which was nicely sweet without a too-pronounced fruit flavor.
Ms S had the passion fruit ice with 75pct sweet that was still incredibly cloying. I believe they are using real fruit judging by the small black seed specks visible in the glass.
Mr A tried the almond milk tea. We debated whether it was "almond milk" tea, or almond "milk tea." He liked it, but in any case, it had a pronounced almond flavor, and full sweet was waaaaaaay too sweet.
We're very happy to report positively on the consistency of Tea Station. How cool to have a Tea Station near us! We'll be seeing a lot of this place this summer, I can guarantee it.