Wang Xing Ji (San Gabriel)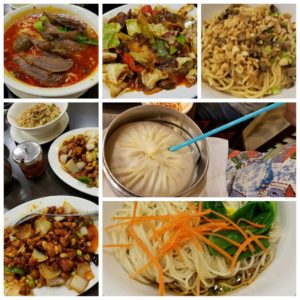 Wow! This was a Szechuan restaurant, as we found out when every item on the menu had either 2 or 3 chili peppers next to it. Our party of 18 arrived early at 530, good thing, because the place was packed packed packed by the time we left. Service was a little slow and haphazard.
Kung Pao Chicken – actually each family ended up ordering their own plate! Outstanding flavor, spicy but not too. I would drive back to LA for this one!
Hot and spicy beef noodle soup – covered in oil and packed with fiery Szechuan pepper.
Big Pork and Crab soup dumpling – this was totally unlike the ones we had in Shanghai. Yes, filled with broth, but packed with a lot of pork-crab mixture. Don't order unless you like crab!
Fried Rice – meh
Peanut noodles – heavy peanut flavor. Needed salt and more chili.
Wang Xing Ji
140 W Valley Blvd, San Gabriel, CA 91776
https://goo.gl/maps/6PNvyFFnsuF2