101 Noodle Express (San Gabriel)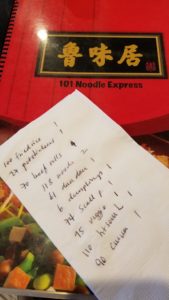 This location of 101 Noodle Express has expanded significantly and upgraded the finishings. They were easily capable of absorbing our party of 22 last night. We took up 2 huge tables. The food was great, as we have come to expect from this place. Vast menu – over 120 items. The service was efficient and quick. And don't forget, it's
CASH ONLY
!
Beef Rolls. Our favorite. We ordered 4 orders. I thought it was 4 pieces per order. It was actually 8 pieces per order!! Times 4 plates! 32 pieces of Beef Rolls! Somehow we ate all but 3 pieces.
Scallion pancakes – big squares of Pancake, seems the same as what they use for the Beef Rolls.
House spicy noodles with pork – the favorite by far. Just really great flavor.
Steamed dumplings with Bok Choy – like
Pork potstickers – like
Cold spicy Cucumbers – crunchy, spicy. Excellent. I think we forgot to get a picture, so here's one from the interwebs: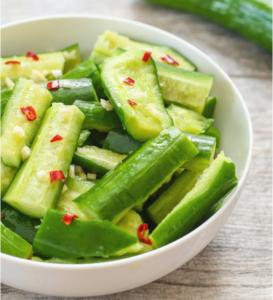 Fried Rice – standard flavorless fried rice
Steamed Bok Choy – good as always
Hot and Sour soup – decent
Dan Dan Noodles with hand torn noodles – outstanding noodles but the sauce was very heavy, almost Hamburger Helper like. I don't think we would order this again.