Tasty Noodle House (Kearney Mesa)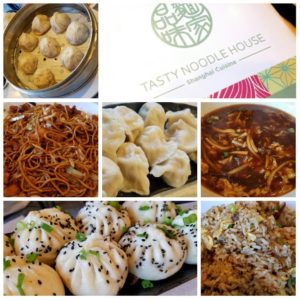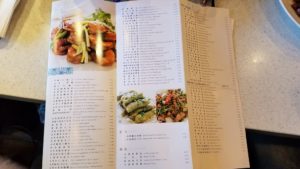 Tasty Noodle House is a new Shanghainese restaurant in Kearney Mesa, in a strip mall already packed with outstanding choices. They have an incredibly vast menu that will take many visits to properly experience. This time we tried the following:
Sheng Jian Bao – fried Shanghai soup dumplings. A cross between a dumpling and a fluffy Bao, filled with pork and soup, fried to a crisp on the bottom, with sesame seeds on top. Crunchy, soft, savory, and sesame. And very filling. Almost every table had an order.
House spicy noodles – the table's favorite.
Black pepper noodles – very good, but definitely not as good as the spicy noodles.
Hot and Sour soup – very spicy on top of the vinegar flavor. The spicy lovers really liked this one.
Steamed Pork dumplings – very succulent pork filling with some greens.
Xiao Long Bao – also very good. Might be tastier than Dumpling Inn.
We can't wait to come back and delve further into the menu. As long as we can get some house spicy noodles too!
Tasty Noodle House
Ste 110, 4646 Convoy St, San Diego, CA 92111
https://goo.gl/maps/d71GX7G7R8C2