Las Brisas (San Marcos, CA)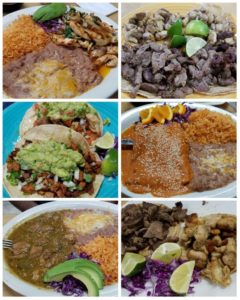 Well, thinking leads to talking leads to doing. After reposting our last visit to Las Brisas, it was really on my mind. And when an opportunity presented itself to try it again this weekend, we jumped.
There seem to be so few Mexican eateries like this in San Diego. The taco shop format is simpler and so very popular here. But we love the heart and soul in these family-run places.
Today our choices were much more successful.
Chile Verde – spot on like last time, family recipe, complex flavor
Adobada tacos – heaped high with meat
Cilantro Chicken – tender threads of chicken with Cilantro and lots of onion. Similar preparation to a Thai Basil chicken. Delicious
Chicken enchiladas Pipin – with a peanut sauce, again a little bit like a satay peanut sauce. Great flavor with the chicken.
Carne Asada and Pollo Asada tacos – a hit with the kids.
Huge portions, great service, above average food.
Las Brisas
577 Rancho Santa Fe Road, San Marcos, CA 92078
https://goo.gl/maps/ymPTcHaaHsp