Come for the Churros (Gasolina Cafe, Woodland Hills)
Dad was of course very excited to find out that a Spanish restaurant was down the street from our hotel. The menu promised all sorts of Spanish Delights that we had been longing for ever since our last trip to Spain. But this place was a little puzzling, the Jamon was cut a little too thick and seem to lack the rich flavor we have come to expect from Jamon. Otherwise the pan con tomate was good with first rate bread. The brioche breakfast sandwich was excellent and we would get that again, it was a great balance between the crispy bacon and the Egg and Spanish cows milk Mahon cheese, softer than Manchego and very nice melted on the sandwich.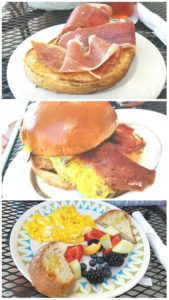 The scrambled egg plate seems like something they could not mess up but they did mess it up in that it was an overeasy egg kind of diced up on the grill but not well mixed and therefore not good for kids (DD). But the piece de resistance, which will bring us back again, is the outstanding churros con chocolate. The rich chocolate was exactly as we remembered it from Spain, not too sweet and very thick. But the churros were incredibly crispy and crunchy and the sugar on top (no cinnamon) actually was a perfect complement to the semi-sweet chocolate. We agreed that these churros might even be better than those we had in Madrid. Blasphemy!!!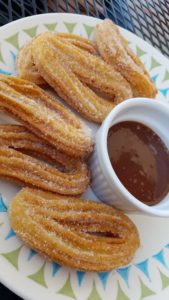 There is very limited indoor seating and the patio has about 10 small tables. It is very shady so in the winter and spring it can be quite cool. And since this is LA beware of hipsters, and dogs. For us this is a problem because our daughter has asthma and she's very allergic to cats and dogs. I wish people that had dogs would remember that some people are allergic, and some people are very very allergic, to dogs.