Davanti Enoteca (Del Mar)
Can you believe it, we were able to book a table here at 2pm on Mother's Day. The ambiance here on the 2nd floor of the shopping center is wonderful. The large rock patios are surrounded by foliage and is glassed in to block the wind.
The Bruscetta was a bit unorthodox today – mozzarella and pesto – but delicious.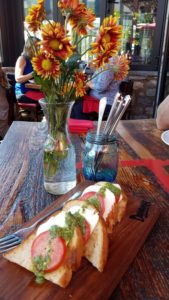 The Pizza con Prociutto was simple with its thin crust that doesn't overpower the thin slices of ham. The Paccheri con Salsiccia (rigatoni and sausage) was a bit too chewy today. We were really hoping for the Meat and Cheese Board but alas this is not served at lunch, even tho the girl on the phone said they would make it upon request…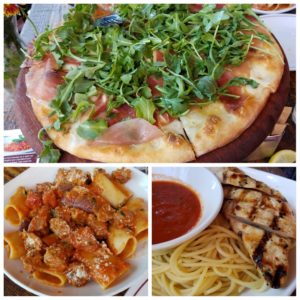 Still one of our favorite places.