Cutty Sark and the Prime Meridian (London, England)
3 metro trips away, the Cutty Sark is at Canary Wharf, about an hour from mid-London (or 2 hours by boat). This was actually more interesting than we thought. The boat is well preserved with good exhibits. The views back towards London are great. One of the Captains from 1890 gave a short lecture and sang a sea shanty with us. The kitchen, bunks, and Captains quarters are beautifully made and well marked (I finally know what a gimble is now). The tea shop under the boat sells yummy treats (the iced walnut cake looked amazing).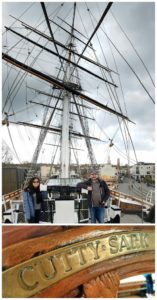 We purchased a joint ticket with the Greenwich observatory where the Prime Meridian, the 0deg longitude line, is. The ability to accurately keep time allowed the determination of the ships longitude, key to accurate ocean sailing.
Metro: Cutty Sark or Greenwich
Dining: lots of pubs and restaurants especially between Greenwich station and the National Maritime museum. The Gypsy Moth pub by the Cutty Sark looks quite picturesque but it seems pubs are better for beer than for food.
Shopping: both gifts shops had a nice selection of unusual items, and lots of shopping near the restaurants.
Picturesque quality: very high. Canary Wharf is all new but the Royal Observatory area is all old London.
Accessibility : the Observatory is on a high and steep hill so that ships in the harbor could see the ball drop at 1pm.
Pro Tip: take time to enjoy the view and people watching at the Statue next to the Royal Obs. Bring your own toilet paper.