Senorial Mexican Restaurant (Banning)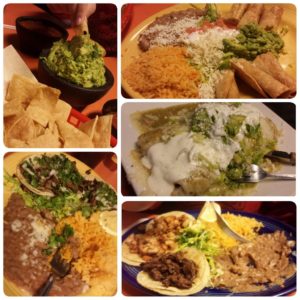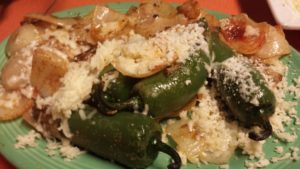 The Inland Empire is a major Latino population center and, as a result, is home to many outstanding Mexican restaurants. We discovered one tonight (via Yelp) that we really liked – Senorial. A tiny sit down affair, they were nonetheless able to seat a party of 6 at one table. The girls ordered their tacos (Samantha: double rice; Megan: double beans). The table ordered guacamole:
Mandy: side of guacamole please.
Waitress: small or large?
Teri: (butting in) large.
And it was only $4.
Alan ordered what he thought would be a straightforward Carnitas burrito but instead received an enormous mountain of a burrito covered in green sauce, cheese, sour cream, and queso fresco. The green sauce was incredible – tart, salty, and spicy. It was so delicious, Teri ate off Alan's burrito instead of her entree (beef taquito plate that arrived as chicken taquitos).
Then, the waitress arrived with a humongous platter of spicy sautéed onions and peppers. On the house! Wow! The two onion lovers devoured it.
All of this magnificence for $71 for 6 people. And Supreme gas prices under $3. Who doesn't love Banning?
Senorial Mexican Restaurant
1675 W Ramsey St
Banning, CA 92220
(951) 846-3520