Chaba Thai Kitchen (Kearny Mesa)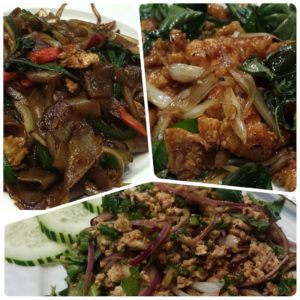 DH was not too hungry tonight so I took the opportunity to try a new Thai place. Thai has been my go-to for many years. Spicy, but not heavy like Indian, Mexican, or Italian. Not bland like sushi. And, has rice. What more can an Asian want.
Chaba Thai is a tiny, tiny Claremont Mesa Dr eatery with a waiting list out front. Good sign.
Drunken Noodles (noodles with chicken and basil) – broad flat noodles, brown sauce, a tad sweet, lots of onion. A nice counterpoint to the
Crispy Chicken with Basil – salty and savory fried boneless chicken, with crispy fried basil leaves and more onion. Sliced chicken, not chunk – easy to eat.
Larb Kai with chicken (spicy 2) – almost too hot, and we like spicy. I could taste all the ingredients – basil, galangal, green onion, shallot, ground rice.
Absolutely delicious. We will be back!
Chaba Thai Kitchen
8010 Clairemont Mesa Blvd
Kearny Mesa
San Diego, CA 92111
(858) 503-7777