Red Moon – Kearny Mesa
Red Moon is one of our favorites in the Kearny Mesa area. It's a tiny family run place that doesn't get a lot of press, but we love their dishes, always consistent. We dashed down here with Megan's family tonight for
* Red Moon Beef – crispy, tangy, and sweet, almost beef jerky like
* Ginger Fried Chicken – lightly breaded, tender chicken, nice and salty
* Honey Walnut Shrimp – always well executed with tender shrimp and super crunchy walnuts
* and of course 5 trays of Xiao Long Bao.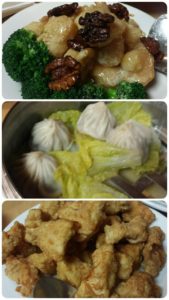 We also like their Mapo Tofu and Salt & Pepper Shrimp.
The restaurant was empty due to the Super Bowl so we had the place to ourselves. Which is a good thing because we tore the place apart – Uncle made the waiter spill the ginger all over the floor and then DH spilled his entire ice water in my lap.
Paid a visit to tiny Share Tea afterwards for Ice Coffee Blended, Oreo smoothie, Strawberry smoothie, and Oolong tea with Boba.
Red Moon
4646 Convoy Street, Ste 114, San Diego, CA 92111
Tripadvisor review
Share Tea Teahouse
4917 Convoy St, San Diego, CA 92111