Rancho Santa Fe Farmers Market
Our favorite Sunday morning event is the Rancho Santa Fe Farmers Market. Open from 930 to 2, it is small but mighty. RSF has glammed up their farmers market with plenty of shaded seating and live music. No other outdoor market in San Diego has that.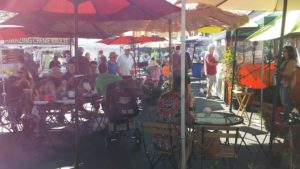 They also have several outstanding vendors that we rely on for breakfast. Unfortunately I can't find a list of the vendors names so here goes:
The Taco place – sliced or ground beef, you never know what you will get in your carne asado taco, but it's DD's favorite.
The Smoothie place – actually a Boba place but I'm guessing most of the clientele wouldn't know a Boba if they stepped on one. DD loves their strawberry smoothies.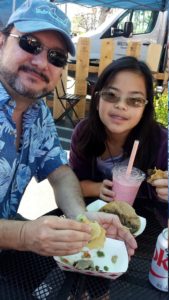 The Paella place – oh ho ho. Outstanding Jamon Serrano bocadillos that started our obsession with the famous Spanish delicacy, Jamon Serrano. Crispy bread, garlic butter sauce, ripe tomatoes, Manchego cheese (it's like a Spanish cheddar) and that salty meaty Jamon. One of the universe's great combinations. The forefather of the great BLT sandwich. They also make a great Paella in their ginormous 4 foot diameter Paella pan, lots of chicken and saffron and the rice is not soggy or mushy at all.
The French bakery & Crepe place – Love their Croissants and oversized cookies. I almost always get a Croissant to go with my bocadillo. Their breads aren't quite as good as Bread and Cie or La Brea, but they are decent enough. Savory and sweet crepes, made by the Dad while the Daughter sells the breads, are excellent as well. We liked the bacon and tomato and cheese crepe.
Pro-Tip: arrive before 10am to avoid the heat and crowds. It was 83 this weekend! How do you like February in San Diego?