Miles and Points 101: rewards types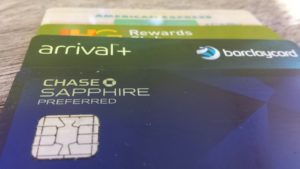 There are three major types of reward credit cards. The difference is the type of reward you collect.
Cash Back
Specific program points
Generic transferrable points
The first is a cash back card. You collect money or points and then after you've met a certain threshold (which varies from card to card) you can get either a simple statement credit or redeem points against specific expenses for a statement credit.  The former is easier to understand and I have an American Express Blue Cash card that works like this.  I get a small reward per transaction (usually about 1%) that collects until I earn at least $25.  Then I have the option of redeeming for a statement credit that just reduces my next bill.  Most card issuers also allow purchasing of gift cards and other merchandise but they charge full price for these so I can't figure out why anyone would ever want to do that if they could just get money.
The other type of cash reward card is a little more indirect.  My Barclaycard Arrival+ gives me two points per dollar I spend.  Again I need to reach a certain threshold before I can redeem (10,000 points for new cards these days).  I then have to redeem against travel expenses I've incurred in the previous 120 days.  One point = 1 cent so I would get $100 back.  If I don't have any travel expenses I wait until I have some.  Barclay also gives the option to redeem for statement credit, but this is for suckers: they only give half value for the points in this case (1 point = 1/2 cent).  So I could redeem 10,000 points for $50 or I could wait until I had a travel expense and redeem the same number of points for $100.  Hmm. Who would ever redeem for half value?
The second type of reward cards are specific program cards, like my IHG Rewards Club card that gives me IHG Rewards Club points.  These are often referred to as "co-branded" cards.  Other examples are the United Airlines Explorer card (gives United frequent flyer miles) and the Marriott Rewards card (gives points in Marriott's frequent stay program).  There's no redemption you need to worry about, each month the points you've earned are transferred directly to your account with the specific program and merge with any points you already have there.  Simple, right?  But not very flexible unless you only ever fly on a single airline and stay in a particular brand of hotel.
The third and final type of reward cards are generic transferrable points cards from each issuing bank.  My Chase Sapphire Preferred card is an example of this type of card.  It earns Ultimate Rewards points, which aren't tied to any specific program when you earn them.  When I want to use them, I choose one of Chase's transfer partners (for example, United Airlines, Southwest Airlines, British Airways, Hyatt Hotels, etc.) and transfer my Ultimate Reward points directly over (usually instantaneously).  Which would you rather have, 1000 United frequent flyer miles or 1000 Chase Ultimate Rewards points that could be instantly changed into United frequent flyer miles but could ALSO instantly become Southwest Rapid Reward points, or British Airways Avios, etc..  That's the flexibility with these "transferrable currencies".  Chase isn't the only one that has points like this: American Express has Membership Rewards, and Citibank has ThankYou Rewards.  Each of these generic points programs also allows direct redemption for certain types of expenses (like travel) but is usually not a particularly good value (e.g., Chase Ultimate Rewards points are worth 1.25 cents for travel booked through the Chase web site but typically can be worth far more than that when redeemed as airline miles).  Still, you always have the option.
The different card issuers have different transfer partners.  I can transfer Chase points to United but not American or Delta.  Chase points transfer at 1:1 (one generic point for one specific program point) but other card issuer's generic points can transfer at different ratios.  Some transfer partners are more useful than others and some make for very poor value transfers, because their points are worth much less than 1.25 cents each (the baseline established above).  Chase Ultimate Rewards points can transfer to IHG or Marriott but these points are worth about .7 cents each or just a little more half of 1.25 cents.  I would not recommend transferring Ultimate Rewards points to IHG or Marriott.
Coming up: annual fees and annual perks