Pegah's Kitchen – Escondido, CA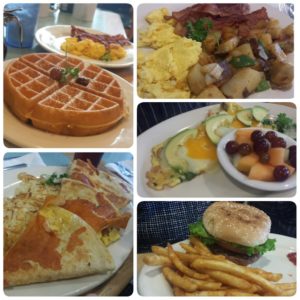 It seems every time we go to Pegah's, it rains. So our new plan to relieve the California drought is to go to Pegah's as often as possible. We love their huge portions and home cooking but it can be a bit noisy. Another great family run restaurant, much preferred to Dennys or Cocos. Dad remarked that there are hardly any breakfast places left in Rancho Bernardo – and the RB Cocos just closed. What's left?? In our area, it seems like it's down to just Donut Touch and Champagne Bakery. And Champagne is really just a glorified Croissant place with no pancakes or waffles (altho their Croissants *are* spectacular). And I do have to shout out for Donut Touch, they once let me take a dozen donuts and pay later when I forgot my money one day…
So where will we take the Mom's to a good old fashioned American breakfast? We'll have to trek over to Pegah's, Golden Egg, Delight of France, or Center City Diner, all in Escondido.
Fav: Waffles, corn beef hash, quesadilla, bacon and egg platter. Bacon is thick and crispy – no "paper" bacon here.
Not so fav: pancakes can be mushy or rubbery.